Craig D.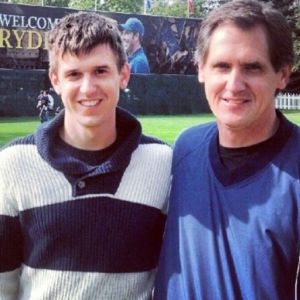 About Craig D.
In 2016 I received a call from my mother crying while I was at work. She informed me that my father was diagnosed with prostate cancer. They just found out and there were still many steps to take, so the call was very quick. I collapsed in the nearby seat and lost it. Being a problem solver it destroyed me feeling like there was nothing I could do. I started doing research online, talked to my brother, mom, and fiance, but my dad obviously didn't want to talk about it. He would answer any questions we had but would quickly change the subject. I understood though, I would do the exact same thing.
Finally, we got the news they were going to perform surgery to remove the cancer. We drove him to the hospital and stayed all day. He was frustrated we took off from work for this, a typical dad move, but my mother, brother, fiance, and I weren't going anywhere. The surgery was completed and we took him home.
After several blood tests it was confirmed he was cancer free! We all celebrated and I even got my first and only tattoo to remember everything. The tattoo says "Chocolate." In 2nd grade my dad would drive me to school every day but I was too embarrassed to say "I love you" since none of the other boys said that to their parents. We came up with this code word "Chocolate" = " I love you." To this day we as a family all still use it. I got the tattoo in my dads handwriting.
2 years passed. I married my fiance, and in May of 2018 we moved out to LA to pursue our film goals. When I arrived I got my first real opportunity, pitching several skit ideas with my friend to Dax Shepard for the Prostate Cancer Foundation. I was beyond excited, this was something extremely close to me and comedy is my favorite genre to work on. While our pitches were not picked it was still a great opportunity and we are still working on several additional ideas for the future.
Cut to November of 2018. I am pulling onto the set for my first project in LA and my mom calls again crying. The cancer was more aggressive than they originally thought and is back. Cue more research and conversations, but again feeling useless. They have decided to go at it again with shots and radiation. Insurance companies have been stalling and it's all becoming quite frustrating. He should be starting everything soon however, the game plan is to be done with everything by May.
We are all currently just staying positive and hoping for the best. My wife and I are working on trying to find a time toward the middle or end of his treatment where we can fly out with our pets, who he is obsessed with, and surprise him with a week or two of movies and games. Help get him through it all.
Share on: Facebook | Twitter
Read More | Submit your Story