Kelin J.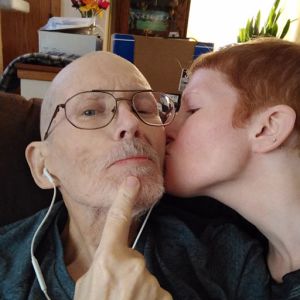 About Kelin J.
I guess you can say part of this is my story, but I really want to recognize my mom.
My dad was diagnosed with prostate cancer, which turned into many others, about 15 years ago.
He was doing well until 2016. That is when his health started to dramatically decrease. By the end of the year he was in DNR Hospice at the VA. He was able to go home I believe before the new year, but was on permanent hospice at home. He was eventually bed bound by February and passed away mid March.
This whole time my mother was taking care of him. She had retired so she was able to be with him 24 hours a day everyday. I have never been so proud of my mom. She was so brave throughout the process of his health deteriorating. I can't even begin to imagine what watching your husband wasting away feels like. She did cry and let it out, but never around him when she could. I did what I could to help her by applying for leave through work to get time off so as to let her get away from the house. My mom and I had a very rocky relationship for years. Seeing my mom like this has made me so proud to be her daughter. I hope I am able to handle hardships that harsh when/if I need to.
Share on: Facebook | Twitter
Read More | Submit your Story