Robert R.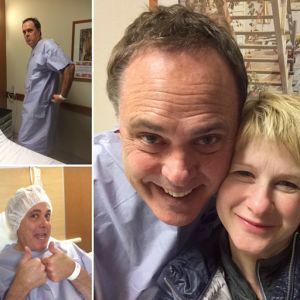 About Robert R.
I was diagnosed 12/2016 with very aggressive prostate cancer; stage 3-4. I had just started dating this wonderful women (now my wife) and it was devastating for us. Jenny Rebecca sat with me when I informed my two sons, she accompanied me to all of my appointments; urology, my bone scan, oncology, surgery, radiation…all of them. JR took time off from work to be with me for my radical prostatectomy, spent the night in the hospital (for 3 days) then cared for me at her home (so I wouldn't have to climb my stairs, Hec, she even asked her parents to fly in from Arkansas to help with our households. JR came to every appointment, sat with me through every chemo therapy treatment. I gave her many outs but this amazing women juggled her job (a 2 hour commute each day), her two children, my treatments, moving 2 households into one, 5 dogs(yes Five dogs), my sons graduation party and all the while with a smile on her face and love in her heart. My two sons love her as a mother as I do her son and daughter.
I truly believe the amazing amount of love and support I received from JR, my sons and her family saved my life.
I am 3 years out and cancer free but not free from a tremendous amount of love and support.
Share on: Facebook | Twitter
Read More | Submit your Story