Suresh S.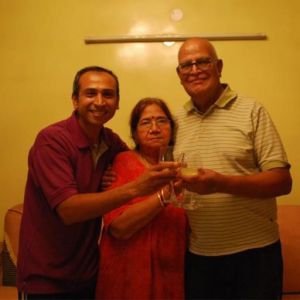 About Suresh S.
The Everlasting Bond of Father & Son
There is no relation in this world that can be stronger and deeper than the one between a Father and Son. Such has been my love, respect for my Dearest Father who had an extraordinary will power, strength and courage to face any situation including fighting two cancers.
Way back on a fine weekend morning in 2001, we were completely devastated and shocked to hear that my Father Mr. D. Srinivasan had been diagnosed with Bladder Cancer after a series of tests that confirmed it was Cancer. We were fortunate to get introduced to one of the finest Doctor Dr. Mohanty Ex HOD Urology at Safdarjung Hospital who treated my Father for the last 18 years. My Dad never gave up and faced every surgery, every medical situation with confidence from 2001 – 2007 as he was determined to fight with his courage to live life. Father with the blessings of Maharaj Ji Baba Virsa Singh Ji through community prayers conducted by Mrs. Mary Pat Fisher at Gobind Sadan where Father used to visit, got loads of courage and strength to fight bladder cancer and finally it got cured in 2007. Later in 2007, Father was diagnosed with Prostate Cancer. He faced several surgeries both minor and major, went through chemotherapy, hormone therapy, immunotherapy from 2007 – 2015. In 2016, radio therapy sessions started as a result of the effect of radiation, Father had to fight copious flow of blood coming out from the rectum in 2016 and 2017. Father was a strong fighter and never gave up. He went for colonoscopy several times so the blood flow could be restricted or stopped. In 2017, my Father was eagerly waiting to celebrate his 80th Birthday which was on March 23, 2018, unfortunately my Dearest Father passed away on February 28, 2018 after a prolonged battle in the hospital for 40 days fighting respiratory ailment that started impacting his other organs.
My Father always had a smile, was full of positivity, always over cared for us and ensured that I was regular with my fitness and adopted healthier ways. There was not even a single day where my Father missed his exercise. Father was an ace Professional, master of his field, despite this terminal illness Father never gave up on life and worked regularly without taking any leave even during the time when he was put on catheter he would still keep up to his official commitments. He was so strong that he would exercise consistently, eat healthy, worked and supported the family in fact, was extremely helpful to others he worked till the time he went into ICU when he was 79 years 10 months.
My Father is my biggest inspiration story, a great source of Inspiration and strength for the family in the following ways:
– First thing in the morning, Father's Day would begin with popping up several medicines empty stomach, not a single day he would miss his exercise except the days when he had a doctor appointment
– Extremely Independent in carrying out his own work including visiting to the Doctor, getting procedures, driving himself to the doctor, temple and for exercise and on many occasions dropping me to the metro station. Infact, he would go the hospital himself get colonoscopy done and would pick me up from office on the way.
– Very regular with his exercise and always used to motivate and encourage us to be healthy
– My Father has been instrumental in my taking up running and was always keen that I learn and practice swimming
– My Father would prepare breakfast for me, prepare my morning coffee, prepare my lunch, dinner on most of the days as he loved to indulge in cooking. Was a tremendous support during the time when my Mother had a fractured leg.
– My Father was always happy to see me traveling, exploring the world and being an outgoing person.
– Even during the last 40 days of hospitalization when he was under tremendous pain, could not speak, he never lost his indomitable spirit to live. Fought and came out of the ventilator support after 7 days. Even under those circumstances, he was smiling and brimming with energy.
– My Father was a true fighter, never gave up.
– Kudos and Salute to my Dearest Father's courage, bravery.
– We are indebted to God and to our Dearest Beloved Father for teaching us the meaning of life and we shall strive to live by his values and principles. May the beautiful memories and strength of my Father shall always remain with us and help us to carry forward the torch in this journey of life. No Gift is more precious in life than the beautiful gift of parents.
We will always remember Father's key message:
"Exercise is a very must for me, I will exercise whether its summer, winter or rainy. I advise to all my other friends to go for regular exercise because any ailment you have it will get cured and you will feel happy. Life is for keeping yourself Happy" – D. Srinivasan
This is what my Father lived and practiced in his entire life (March 23, 1938 – February 28, 2018) as mentioned below in one of the great quote.
"The important thing is not how many years in your life but how much life in your years." – Edward J. Stieglitz
Share on: Facebook | Twitter
Read More | Submit your Story