September is Prostate Cancer Awareness Month.  There are over 3 million men living with prostate cancer in the U.S.  1 in 9 men will be diagnosed in their lifetimes – that's one guy on your softball team, a couple of guys in your office, one of your cousins, a best buddy from college.  Prostate cancer is 99% treatable if detected early… let's give every man in our lives a fighting chance.  Here are 10 things you can do this PCAM to get us to 100%.
1. Get Educated. Have you or someone you love struggled with prostate cancer?  PCF's new patient guide is a comprehensive resource for patients and families to treat, prevent, and live well… and it's free this September.  Get it now.
2. Get Checked. Screening guidelines were updated by the USPSTF in 2017. Copy and share this quick infographic to help those you love remember when to get checked.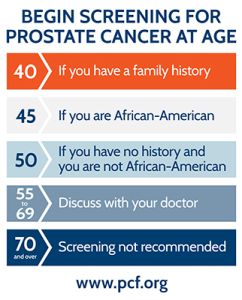 3. Save The Males! This September, tag every man in your life to raise awareness about prostate cancer, the most common cancer among men.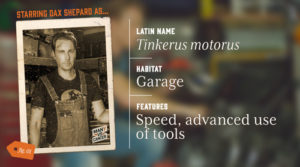 4. Wear Your Pin. We'll send you one, free.  All you have to do is ask.
5. Change Your Profile Picture. Let's raise awareness!
6. Get Sequenced. PCF funded research is increasingly revealing that prostate cancer is a family disease. Read one man's story of how genetics helped unlock a cure for a patient who had almost lost hope.
7. Tell Your Story. What's your prostate cancer fight story? Tell us, we want to know.
8. Give. In the last 23 years, PCF has funded just about every practice-changing breakthrough in prostate cancer treatment. Support the scientific engine churning out results that are urgently needed by patients. Got money? Become a donor.  Got time? Become a fundraiser and join our Many vs Cancer community.
9. Participate in a Clinical Trial. Clinical trials allow researchers to test critical treatments so that they can be approved and brought to market.  If you're a prostate cancer patient, clinical trials give you the option to become a citizen scientist.
10. Be Well. Maintain a healthy weight, exercise regularly, eat nutritiously, avoid smoking, and reduce stress.