The 2016 State of Science Report is a summary of the presentations and discussions that took place at the 23rd Annual Prostate Cancer Foundation Scientific Retreat, held in October, 2016, in Carlsbad, CA. For the past twenty-three years, PCF has convened an Annual Scientific Retreat in order to bring together diverse researchers in a collaborative forum to present and discuss new and largely unpublished findings for prostate cancer diagnosis, prognosis, and treatment, and to define the challenges that impede progress toward better treatments and a cure.
The tradition of publishing a yearly State of the Science Report and an accompanying scientific publication began in 2008, for the purpose of disseminating the knowledge from the Retreat throughout the scientific community and the public. We hope these scientific reports and publications will be useful to you and will promote the development of new ideas, data exchange, and discourse, as well as stimulate support for scientific research.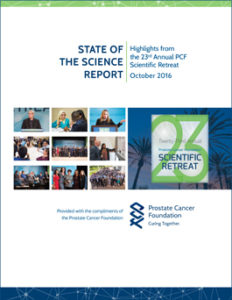 The 2016 State of Science Report is now available for download.
Past Annual PCF Scientific Retreat Highlights:
2016 State of the Science (PDF)
2015 State of the Science (PDF)
2014 State of the Science (PDF)
2013 State of the Science (PDF)
2012 State of the Science (PDF)
2011 State of the Science (PDF)
2010 State of the Science (PDF)
2009 State of the Science (PDF)
2008 State of the Science (PDF)
Scientific Publications from the Annual PCF Scientific Retreat:
2015 Retreat – The Prostate
2014 Retreat – The Prostate
2013 Retreat – The Prostate
2012 Retreat – Cancer Research
2010 Retreat – The Prostate
2009 Retreat – The Prostate