Hello Friends and Family,
I am almost 13, and my bar mitzvah is coming up soon. For my mitzvah project, I would like to donate money to the Prostate Cancer Foundation. The reason I'm choosing to donate money to prostate cancer is because both of my grandfathers have been affected by it. Harry Falber passed away in 1992 from prostate cancer and Sandy Okun recently overcame prostate cancer. This money will go towards research to hopefully find a cure for this disease.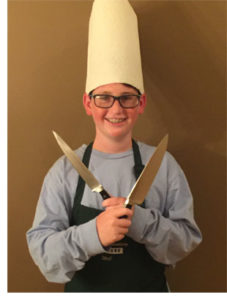 I am offering you a chance to participate in a raffle, in which you can win a three-course meal. The winner will win a homemade three course dinner for 2 made by Chef Drew. The menu is to be determined. There will also be a bottle of wine. I will make plans with the winner about the meal. Minimum suggested donation is $36 for one raffle ticket. Buy as many raffles as you want or you can just make a donation. The winner of the raffle will be picked and shown in a video to prove it is not fake.
Thank you so much for supporting a cause that means so much to my family and I.
Thanks,
Drew Okun
This is an honor or memorial gift