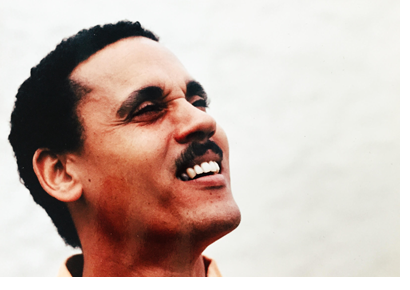 John McDavid Lehman Jr. was born March 29, 1947 to Ouida Pruitt Lehman and John McDavid Lehman Sr. A second-generation Angeleno, he attended Los Angeles High School with his brother Paul. Separated by just 11 months, the Lehman brothers were close and ran in the same circles, proving to be popular in their own right due to their humor, talents and good looks. During his time at L.A. High, Johnny was selected to be a member of the esteemed Acapela Choir, known for being among the best in the city.
After high school John took classes at Los Angeles City College and University of California Los Angeles but eventually chose to follow his passion for music. John went on to develop a longtime career as a professional musician. A true talent from a young age, his Aunt Ursula, Uncle L'Ouverture ["Lobie"] and mother were instrumental in introducing John to the arts and encouraging his development. John began taking piano lessons during his elementary school years from Bernice Lawson, a distinguished pianist and teacher in the Los Angeles-area, who identified her pupil as having perfect pitch. Throughout the years, he went on to learn to play the clarinet and violin, taught himself to play the pipe organ, and dabbled in numerous other instruments.
Over decades in the industry he worked as a singer, composer and arranger for names like Barbara Streisand, Quincy Jones, The Carpenters, Nancy Wilson, Kris Kristofferson, Shirley Bassey, David Foster, Herbie Hancock, Nancy Sinatra, Harry Connick Jr. and Michael Jackson, to name a few. As a member of the Jimmy Joyce Singers, he appeared on television regularly on The Smothers Brothers Comedy Hour, The Red Skelton Show, The Carol Burnett Show and This Is Tom Jones, and performed on a number of motion picture scores, including Apocalypse Now, Amistad, The Abyss, Father of the Bride, and National Lampoon's Vacation, among others. Having been in the industry for almost half a century, John became a SAG-AFTRA member in 1968 and achieved Life membership of Professional Musicians Local 47. In 1995, John served as musical director and helped arrange pieces for an original musical drama by Beth Eichel and Dr. Louise Midget titled "Porches." For several years, John served as musical director with Avenues of Christmas, working with W.L.S.I., Inc. He provided his talents for special events at Tom Bradley Elementary School (formerly Dublin) and various soloists and churches around the city of Los Angeles. A of couple years ago, he joined harpist Radha Botofasina on an album called The Spirituals, for which they traveled to Warsaw, Poland to teach workshops on the African-American Spirituals, of which he could perform on piano and organ.
On August 23, 1968, John married Carolyn Ann Lee, a beauty from Cotton Plant, Arkansas after the two met at Southwest Presbyterian Church. Young and in love and needing to support a family, John became the musical director and organist in 1978 for St. Paul Evangelical Lutheran Church of Los Angeles, a church deeply rooted in the family as originally founded by John's great-grandfather, Pastor John McDavid. From their union, they had two children: son John McDavid "Davey" Lehman III and daughter Leigh Carole Lehman. John's deep love and abiding faith in God came through his silky voice and skilled key stokes every Sunday morning. Over his forty-plus tenure at the church, John missed only a few Sundays until his final weeks on earth. A regular bible study attendee, John was quick to share of his love of Christ and fellowship at St. Paul.
This is an honor or memorial gift
Seldom seen without his clipboard, he loved to keep himself intellectually challenged,whether crossword puzzles, the daily Jumble, a chess game or the Rubik's Cube – he was one of the few we knew to solve the cube. He loved encouraging young people and would never shy away from an opportunity to mentor. Over many years at Dublin, he oversaw the Chess Club, tutored students in math and co-created and recorded the "Multiplication Rap Tape" to help educate and inspire youth to love math. Always quick with a joke, John didn't hold back on his observations of the everyday or the world. One of the highlights of his life came in 2009, when the Board of Regents of Concordia University Irvine unanimously voted to bestow the Doctor of Letters degree upon John, presented to individuals who have made significant contributions in the areas of arts and sciences in other scholarly research and writings.
Dr. John McDavid Lehman, Jr. joined his heavenly father and parents after a long battle with cancer February 17, 2017. John is survived by his wife Carolyn, children John and Leigh, brother Paul C and sister-in- law Luz, nephew George and grand-nephew George Jr., Aunt Mary Burns, Aunt Jeraldine Lehman and numerous cousins. The family wishes to express special thanks to cousins Paula Brown and Denise Orso who were great sources of strength and help to "Cousin Johnny" throughout his illness. In lieu of gifts to the family, donations can be made below.