Ronald Darsee, age 73, went to be with the Lord on September 13, 2016. Born on July 21, 1943 in Baytown, TX, he was the son of George and Lucinda Darsee.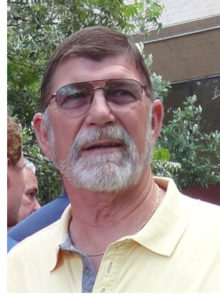 Raised in Baytown, Ronald graduated from Robert E. Lee High School. He studied accounting at Lamar University and he was a sales associate at Alklean Industries for over 40 years. Ronald was a loving and dedicated husband, father, and Paw Paw.
As a young man he was an Eagle Scout. As a proud American and patriot, he chose to serve his country during the Vietnam War. Ronald was a member of the Bayou Rifles Shooting Club and he was an avid hunter. He was also a member of Cedar Bayou Grace United Methodist Church.
Ronald is preceded in death by his father, George Darsee, his mother, Lucinda Spell Darsee, his brother James Darsee, and his grandson Dylan Creelman.
He is survived by his wife of 44 years, Becky Darsee. His children, Michael O'Conor and wife Shannon, Julie Stevenson and husband Michael, Rhonda Steele and husband Thomas, Amber Kimble and husband Brandon, Brandon Darsee and girlfriend Korie Fregia; sister Geroge Anna Morris and husband Pat; brother Herb Darsee and wife Kim; father-in-law George M. Burnett Jr. and wife Cathy; brother-in-law Jimmy Burnett; sister-in-law Suzy Blystone and husband Rick; 16 grandchildren and one great-grandchild; along with numerous nieces, nephews and cousins.
Thank you for considering a donation in his memory. He was diagnosed with prostate cancer in October of 2015 and was told that it had already metastasized into the bone. He fought courageously until the end although he was in a tremendous amount of pain.
The family will be notified of your gift as well as any notes you include. Please allow an additional 5 – 7 business days for mail delivery, per the US Postal Service. If you prefer, donations may also be mailed to:
Prostate Cancer Foundation
1250 Fourth Street
Santa Monica, CA 90401
This is an honor or memorial gift