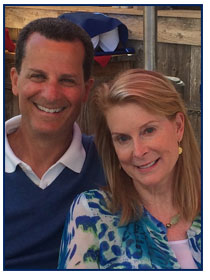 Please help me in supporting lifesaving research projects through the Prostate Cancer Foundation (PCF). PCF is the global leader of prostate cancer research whose mission is to find cures for a disease that affects 1 in 9 men. 82% of its donations went directly to research awards – that's almost $32 million each year. While the mission is prostate cancer "centric", PCF's many research programs not only affect prostate cancer but will also lead to the cure for other cancers and diseases. There is example after example of how PCF's research dollars go far beyond prostate cancer.
Your generous donation will support the advancement in Precision Medicine. PCF has a successful history of funding research ideas that are unlikely to be funded by other sources. PCF provides grants after a competitive peer review based on the greatest potential to produce breakthroughs for detecting and treating prostate cancer.
Your gift will not only result in the development of new precision drugs for advanced prostate cancer, but will also change the way all cancer patients will be treated, with clear applications to all cancers, including melanoma, breast cancer, lung cancer, myeloma, kidney cancer, ovarian cancer, and bladder cancer.
Dollar for Dollar Match
A private foundation is willing to match your donations, and will donate up to $100,000 raised through my campaign.
Previous Creativity Award Project Update:
Special thanks to all that supported the 2016 Loyd and Jeff Zisk Creativity Award
The initial investment from the generous donors to the 2016 Loyd and Jeff Zisk Creativity Award kicked off exactly the kind of investment cycle which is the bedrock of PCF's signature venture philanthropy model. The initial investment matched by other donors was then in turn matched by a significant investment from a biopharma company achieving the total project goal of a $1 million dollar Challenge Award.
Because of you, PCF has succeeded in accelerating the pace of science, achieving a fully financed project with research having already begun in a fraction of the time of traditional scientific research funding.
Below is a summary of the project:
PROJECT TITLE: Evaluation of Whole Body RSI-MRI as a Biomarker for Detection, Characterization and Therapy Response of Metastatic Prostate Cancer
SUMMARY: This project will credential a new, highly sensitive imaging technology for detecting metastatic tumors that will lead to improved staging of patients and evaluation of treatment responses.
PROJECT DETAILS: The ability to detect and treat prostate cancer at the early metastatic stage requires highly sensitive molecular imaging technologies. The team is developing a novel molecular imaging technology for detecting metastatic lesions and assessing changes in tumor size following treatment. This technology is a radiation-free method.
PRINCIPAL INVESTIGATORS: David Karow, MD, PhD, Christopher Kane, MD, and Donna Hansel.
This is an honor or memorial gift