Altering the Natural History of Metastatic Prostate Cancer using Stereotactic Ablative Radiotherapy and Immune Stimulation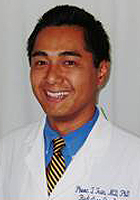 About Altering the Natural History of Metastatic Prostate Cancer using Stereotactic Ablative Radiotherapy and Immune Stimulation
Oligometastatic prostate cancer is a disease state in which only a few detectable metastatic lesions have developed in a treatment-naïve patient. Local treatment of the primary tumor and metastatic sites in combination with chemotherapy has resulted in long term survival benefits in patients with colorectal cancer and sarcomas. It is unknown if prostate cancer patients would benefit from a similar approach.
Dr. Tran and team are studying the efficacy of treating prostate cancer patients who have 5 or fewer metastatic lesions with stereotactic ablative radiation (SABR), a radiation therapy regimen that delivers a highly focused, localized, high-dose of radiation in a hypofractionated protocol that is designed to minimize toxicity.
A NCI-sponsored Phase II clinical trial testing the efficacy of administering SABR to all sites of disease in oligometastatic prostate cancer patients is being initiated.
Radiation therapy is thought to stimulate the immune system by releasing tumor antigens that activate anti-tumor T cell responses. In additional Phase I and Phase II trials, the combination of SABR with a prostate cancer vaccine will be tested in oligometastatic prostate cancer patients for potential therapeutic synergy. The vaccine, ADXS-PSA, consists of a live, attenuated strain of Listeria monocytogenes that expresses a prostate tumor-associated protein (PSA) and generates robust anti-tumor immune responses in preclinical prostate cancer models.
In these trials, circulating tumor cells (CTCs) and circulating tumor DNA (ctDNA) will be collected from patient blood and quantified at various time points before, during and after therapy to determine whether any of these measurements can serve as predictive biomarkers of patient outcome.
To determine if these treatment regimens reflect anti-tumor immunity in the T cell population, the TCR gene will be sequenced from peripheral blood immune cells collected from these patients. The TCR gene encodes the protein that T cells use to identify targets and is unique to each T cell clone.
What this means for patients: Oligometastatic prostate cancer may still represent a curable state of advanced prostate cancer if effective treatments can be developed. Dr. Tran and team are studying the effects of using stereotactic ablative radiation (SABR) with or without immunotherapy and developing non-invasive methods of disease monitoring. If successful, this project will lead to a new treatment regimen that extends the lives of oligometastatic prostate cancer patients.
Principal Investigator:
Phuoc Tran, MD, PhD (Johns Hopkins University), Adam Dicker, MD, PhD (Thomas Jefferson University), Charles Drake, MD, PhD (Johns Hopkins University), Kenneth Pienta, MD (Johns Hopkins University), Martin Pomper, MD, PhD (Johns Hopkins University), Theodore DeWeese, MD (Johns Hopkins University), & Mario Eisenberger, MD (Johns Hopkins University)
Co-investigators:
Ashley Ross, MD, PhD (Johns Hopkins University), Hao Wang, PhD (Johns Hopkins University), Max Diehn, MD, PhD (Stanford University)