Eliezer Van Allen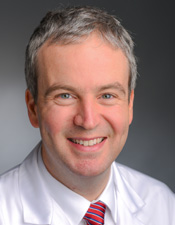 About Eliezer Van Allen
The introduction of Zytiga and Xtandi into standard of care for advanced, metastatic prostate cancer benefits many patients; however, all will ultimately become resistant to these medicines.
Resistance mechanisms to these treatments remain mainly unknown.
Dr. Van Allen will interrogate numerous potential resistance mechanisms by determining genomic alterations that occur prior to, and after resistance to Zytiga.
What this means for patients: Understanding mechanisms of resistance to Zytiga should result in the identification of new therapeutic targets for the treatment of drug-resistant, advanced, metastatic prostate cancer.
Award
2013 Albert Fuss PCF Young Investigator Sponsored by Mark Shenkman
Eliezer Van Allen, MD
Dana-Farber Cancer Center
Mentor:
Levi Garraway, MD, PhD
Project Title:
Dissecting clinical response and resistance to abiraterone acetate (Zytiga)