Ganesh Raj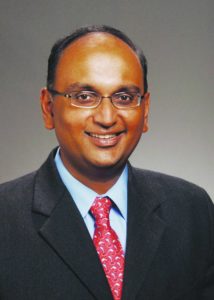 About Ganesh Raj
Dr. Raj earned a BS degree in Biology from Johns Hopkins University and an MD degree from Jefferson Medical College. He trained in urologic oncology at Memorial Sloan-Kettering Cancer Center and is currently an Assistant Professor of Urology at the UT Southwestern Medical Center in Dallas.
The androgen receptor (AR) system plays a central role in prostate cancer and represents a critical target for novel drugs in the treatment for this disease. Targeting specific genes is now possible, but the delivery of these new inhibitors to their targets is difficult. The focus of Dr. Raj's proposal is to refine a system that will be both an MR imaging agent and a drug delivery vehicle for gene-targeted inhibitors. Specific gene targets are the AR and AR-associated molecules.
Jer-Tsong Hsieh, PhD, a leader in human prostate cancer molecular biology and a professor of urology at UT Southwestern, will provide mentorship for Dr. Raj.
Read the Progress Report for this award
Award
The 2008 Durden Foundation – PCF Young Investigator Award
Ganesh Raj, MD
UT Southwestern Medical Center – Dallas, TX