MEK Inhibition as a Treatment for Metastatic Castrate Resistant Prostate Cancer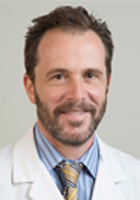 About MEK Inhibition as a Treatment for Metastatic Castrate Resistant Prostate Cancer
Developing effective treatments for patients with metastatic castrate resistant prostate cancer (mCRPC) remains a critical unmet need as these patients have few to no remaining treatment options. Recent studies have found that the MAPK pathway is highly activated in some mCRPC tumors and correlates with worse disease outcomes. This suggests that the MAPK pathway may be an oncogenic driver of mCRPC and therefore a potential therapeutic target.
Dr. Rettig and team are studying the effect of targeting the MAPK pathway in patients with mCRPC.
In an off-label usage, an mCRPC patient who previously failed treatment with ADT, abiraterone, enzalutamide, Sipuleucel-T, and Radium-223, exhibited a marked response to Trametinib, an inhibitor of the critical MAPK pathway member MEK, with a >90% reduction in PSA for over 20 weeks.
A phase II clinical trial will be conducted to test the efficacy of Tremetinib in patients with mCRPC who have failed treatment with enzalutamide or abiraterone.
To validate the ability of Trametinib to inhibit MEK activity in patients, biopsies of tumors obtained pre- and post-treatment will be examined for changes in the activation status of ERK, a phosphorylation target of activated MEK. Whether Trametinib inhibits the expression of genes controlled by the MAPK pathway will also be examined.
Genomic and gene expression analyses will be performed on the tumor biopsy samples in order to identify mechanisms of response or resistance to Trametinib. Specifically, the team will analyze mutations in MAPK genes and the activation status of the androgen receptor (AR) for any relationship with Trametinib responsiveness.
What this means for patients: The MAPK pathway regulates growth and survival genes and may drive the progression of mCRPC. Dr. Rettig and team are studying the efficacy of inhibiting the MAPK pathway with Trametinib in mCRPC patients and the mechanisms that regulate treatment responsiveness. If successful, this project will lead to a new therapy for the treatment of highly aggressive treatment-refractory metastatic prostate cancer.
Principal Investigator:
Matthew Rettig, MD (University of California, Los Angeles)
Co-investigators:
Nicholas Nickols, MD, PhD (University of California, Los Angeles), Hong Wu, MD, PhD (Peking University), Robert Reiter, MD, MBA (University of California, Los Angeles), Jiaoti Huang, MD, PhD (University of California, Los Angeles), Ted Goldstein, PhD (University of California, Santa Cruz), Robert Baertsch, PhD (University of California, Santa Cruz), Nicholas Reese, MD (University of California, Los Angeles), David Elashoff, PhD (University of California, Los Angeles)