Optimizing First Line Treatment for Men with Castrate Resistant Prostate Cancer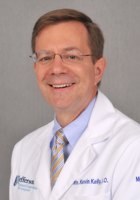 About Optimizing First Line Treatment for Men with Castrate Resistant Prostate Cancer
Determining whether an individual patient will benefit from a therapy is critical for extending patient lives and reducing unnecessary morbidities from ineffective treatments.
Dr. Kelly and team will examine the utility of the retinoblastoma (RB) gene as a biomarker to determine if CRPC patients would benefit from receiving abiraterone vs. chemotherapy.
Tumors that have lost the RB gene are hypothesized to be resistant to AR-targeting therapies but be more sensitive to chemotherapy. Conversely, treatments that activate RB, such as CDK4/6 inhibitors, are hypothesized to enhance the sensitivity of RB-expressing tumors to AR-targeting therapies.
The response of patients in two clinical trials that stratify men to receive treatments based on whether or not their tumors have retained or lost the RB gene, will be examined. These trials will test abiraterone vs. abiraterone + cabazitaxel chemotherapy or abiraterone vs. abiraterone + a CDK4/6 inhibitor (LEE-001).
The expression of RB and RB-pathway genes as well as AR-variants which may promote abiraterone-resistance will be correlated to clinical outcome in these trials. Whether or not RB, AR-variants or other genes mediate therapeutic resistance will be determined by examining gene expression and genomic mutations in tumor samples at the time of progression.
Finally, data from several clinical trials will be examined to identify characteristics of patients that respond better to chemotherapy and to develop models that predict the optimal number of chemotherapy cycles for maximal benefit.
What this means for patients: Identifying biomarkers that match patients with optimal therapies is a critical need. If successful, this project will identify biomarkers that predict whether a CRPC patient will be more likely to benefit from abiraterone vs. chemotherapy and will develop models that predict the optimal duration of chemotherapy administration. This will enable clinicians to optimally treat CRPC patients to maximize benefit and minimize unnecessary morbidities.
Principal Investigator:
William Kevin Kelly, DO (Thomas Jefferson University)
Co-investigators:
Karen Knudsen, PhD (Thomas Jefferson University), Robert Den, MD (Thomas Jefferson University), Susan Slovin, MD, PhD (Memorial Sloan Kettering Cancer Center), Susan Halabi, PhD (Duke University), Ruth Birbe, MD (Thomas Jefferson University), Benjamin Leiby, PhD (Thomas Jefferson University)