Proposal Title: Targeting Genomic Instability in SPOP Mutant Prostate Cancer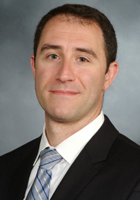 About Proposal Title: Targeting Genomic Instability in SPOP Mutant Prostate Cancer
Prostate cancer is a heterogeneous disease and can be classified into various subtypes by the mutations that drive disease development and progression. Understanding the biology by which various mutations drive prostate cancer will lead to the generation of new therapies that target prostate cancer subtypes.
Mutations in the SPOP gene represent one molecular subtype, comprising ~10% of prostate cancers.
Dr. Barbieri and team will determine if SPOP mutations promote prostate cancer by causing genetic instability and allowing the accumulation of additional oncogenic mutations due to an inability to repair damaged DNA. This might render SPOP-mutant tumor cells more sensitive to therapies that cause DNA-damage or block other DNA-damage repair pathways. Tumor cells with SPOP-mutations versus a subtype of tumors characterized by rearrangements in the ERG gene will be compared for sensitivity to drugs targeting the DNA damage-repair gene, PARP1.
SPOP mutations occur early in the natural history of prostate cancer. It is not known if SPOP mutations play a role only in the initiation of prostate cancer versus later phases of disease progression. The role of SPOP at different times throughout prostate cancer development and progression will be examined using genetically engineered prostate cancer mouse models where SPOP can be deleted from prostate cells or tumors at any time.
Finally, whether SPOP mutations render tumors more sensitive to PARP1-inhibitors will be tested in prostate cancer clinical trials.
What this means for patients: Understanding the biology of different prostate cancer molecular subtypes will lead to the development of more effective and personalized treatment strategies. This project will determine the role of SPOP mutations in prostate cancer and test whether SPOP mutations confer enhanced sensitivity of tumors to PARP1-inhibitors.
Principal Investigator:
Christopher Barbieri, MD, PhD (Weill Cornell Medical College)
Co-investigators:
Johann de Bono, MD (Institute of Cancer Research/Royal Marsden Hospital); Mark A. Rubin, MD (Weill Cornell Medical College and NewYork-Presbyterian Hospital); Michael M. Shen, PhD (Columbia University Medical Center); Antonina Mitrofanova, PhD (Columbia University Medical Center); Gunther Boysen, PhD (Institute of Cancer Research/Royal Marsden Hospital); Michael A. Augello, PhD (Weill Cornell Medical College).