Shedding Light on Stromal-Epithelial Interaction in Prostate Cancer carcinogenesis and Mortality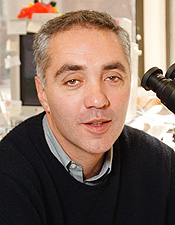 About Shedding Light on Stromal-Epithelial Interaction in Prostate Cancer carcinogenesis and Mortality
What this means to patients: Studying the interaction of tumor cells with normal cells in their vicinity will shed light on mechanisms of cancer progression and treatment resistance. These studies will help in the identification of aggressive disease-specific markers for better patient stratification and potential new drug targets.
Synopsis: Cancer cells, their neighboring stromal cells (non-tumor, connective tissue cells) and interactions between the two compartments form the tumor microenvironment. Crosstalk between cancer (epithelial) and stromal cells is implicated in carcinogenesis and disease progression, but is not well understood. Dr. Loda and his team of researchers propose to study the role of the stroma in the initiation and progression of prostate cancer. They will identify critical cellular pathways in the stromal-epithelial microenvironment associated with the progression to invasive disease, based on gene expression and regulatory RNA expression in patient tissues. Using these aggressive disease-specific signatures and statistical approaches, they propose to identify stromal markers of prostate cancer progression targetable by currently available drugs.
Massimo Loda, MD, PhD
Harvard Medical School
Co-investigators:
Lorelei Mucci, ScD (Harvard School of Public Health); Giovanni Parmigiani, PhD (Harvard University); William Watson, PhD (University College Dublin); Stephen Finn, MD, PhD (Trinity College Dublin); Meir Stampfer, MD, PhD (Harvard School of Public Health); Ove Andren, MD, PhD (University of Orebro).