Targeted Niche Therapy (TNT) to cure metastatic Prostate Cancer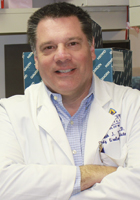 About Targeted Niche Therapy (TNT) to cure metastatic Prostate Cancer
Metastasis of prostate cancer to the bone is the primary cause of prostate cancer mortality. The discovery of new therapies that target prostate cancer in bone is critical for obtaining cures for patients.
Dr. Kenneth Pienta and team propose a bold strategy for the elimination of prostate cancer in bone. They plan to treat patients with a medication that will release tumor cells from the bone followed by systemic chemotherapy to kill the now loose and trafficking tumor cells.
To determine if prostate cancer cells can be forced out of the bone, patients will be treated with a medication named AMD3100, an inhibitor of the CXCR4 protein which is thought to cause tumor cells to adhere to bone marrow, followed by docetaxel chemotherapy. The numbers and features of tumor cells that exit the bone and enter the circulation will be investigated from patient blood specimens.
What this means for patients: Bone metastasis leads to significant morbidity and can cause mortality of prostate cancer patients. This project will test a new paradigm – that drugs can be used to force prostate cancer cells out of the bone and into the circulation making them targetable by systemic chemotherapy. If successful, this project will lead to a new and novel treatment method for bone-metastatic prostate cancer.
Principal Investigator:
Kenneth Pienta, MD (Johns Hopkins University School of Medicine)
Co-investigators:
Rick Jones, MD (Johns Hopkins University School of Medicine), Bruce Trock, PhD (Johns Hopkins University School of Medicine), Russell Taichman, DMD (University of Michigan), Michael Schweizer, MD (Johns Hopkins University School of Medicine)