Jeff F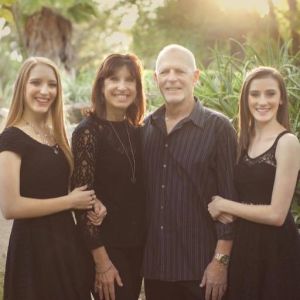 About Jeff F
A wife's perspective…
High PSA… Pretty common these days, probably just a test error.
Third high PSA test… Okay, not good.
Exam… Healthy husband, fairly fit, no other medical conditions.
Post exam… Doctor now very concerned.
Biopsy… I had never seen him in so much pain… Not good.
Majority of Gleason scores are 9, all 12 cores positive
CT scan: L4 involvement, metastasized to bones from Prostate.
Thirteen months after the initial diagnosis, we celebrated our 25th Anniversary and our daughters' 18th Birthday by Cruising to Mexico. We ziplined and toasted to low PSA numbers and good health! But it was a journey.
First oncology team suggested an immediate clinical trial… Um, no… I was in the pharmaceutical industry and needed to do some more research on this.
We got a second opinion, which included a very aggressive treatment plan of radiation and Lupron. Wow, 9 weeks of radiation plus the effects of the Lupron? Having been through infertility treatments 17 years earlier, I remember how moody and uncomfortable I was on hormone therapy. This aggressive treatment plan validated how serious this diagnosis was, but we could not give up on fighting for Jeff's health.
July 2017, PSA was on the rise, and his pain was increasing more by the day. His bone scan revealed tumors from the knees to the neck. Hearing this news felt just as devastating as the first diagnosis.
How do we get through these challenges? In part I revert to my scientific clinical side and use logic to move forward. What is the best next step? How can we alleviate the pain? What treatment will offer the best outcomes? How can I divert his attention from the pain to enjoy a sunset or take a bike ride on the beach?
We were so fortunate to have resources: good medical insurance, access to the leading clinicians in the country, flexible schedules to attend appointments and treatments and a great support system of family and friends to help us get through the tougher moments.
A diagnosis of Prostate Cancer affects a family so significantly. So many people think that it is curable and not serious, so the severity of his diagnosis was lost on many outside of our family. One of the scariest things was a CEO of a very prominent company in our area died of Prostate Cancer shortly after our first diagnosis. He would have had access to all the physicians and treatment that money can buy and had good insurance-so how could that happen? Despite the odds, we always strived for optimism through research outcomes and new treatment modalities being developed. It's just a matter of time that the treatments will deliver even better success rates and we just keep moving forward with support and love.
Share on: Facebook | Twitter
Read More | Submit your Story