Previous Webinars
---
May 13, 2020 – Prostate Cancer Foundation Global Knowledge Exchange on COVID19 & TMPRSS2
There has been a recent and productive shift by many cancer scientists to work on solutions for the coronavirus pandemic.
Recent studies have demonstrated that the androgen-regulated protease TMPRSS2 is required for SARS-CoV2 entry into host cells. This suggests that inhibiting the TMPRSS2 protease or its expression may be an effective treatment for COVID19.
This will be the first of a 2-part series by the Prostate Cancer Foundation (PCF) Global Knowledge Exchange on this topic. In this first webinar, the speakers will briefly discuss their recent research on TMPRSS2 biology, treatment ideas for SARS-CoV2 infection, followed by discussion / Q & A.
A second webinar at a later date will address emerging clinical trials on TMPRSS2 inhibition in patients with SARS-CoV-2 infection.
Speakers:
Dr. Christina Jamieson (University of California, San Diego)
Dr. Arul Chinnaiyan (University of Michigan)
Dr. Nima Sharifi (Cleveland Clinic)
Dr. Carlos Cordon-Cardo (Mount Sinai School of Medicine)
Dr. Andrea Alimonti (Università della Svizzera Italiana, Switzerland)
Moderated by: Dr. Howard Soule (Prostate Cancer Foundation)
---
April 30, 2020 – PCF-Us TOO Webinar on Disparities in Prostate Cancer
Racial disparities exist in rates of prostate cancer diagnosis and death: in the US, African American men are 76% more likely to be diagnosed with and more than twice as likely to die from prostate cancer than Caucasian men. Among other men of color, disparities exist but are less well-described. During National Minority Health Month, please join us as PCF and Us TOO host a webinar to discuss recent research. We'll also hear from an African American prostate cancer survivor and a caregiver of a Veteran who is battling the disease.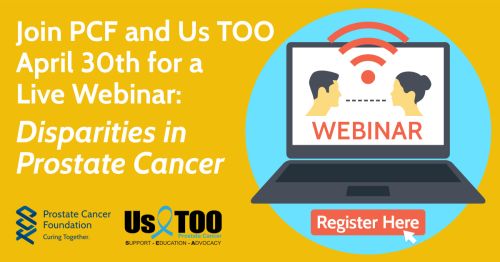 ---
April 15, 2020 – Global Prostate Cancer Foundation (PCF) Journal Club #ProPSMA Study
Speaker: Prof. Michael Hofman, Peter MacCallum Cancer Centre, Australia
Title: Prostate-specific membrane antigen PET-CT in patients with high-risk prostate cancer before curative-intent surgery or radiotherapy (proPSMA): a prospective, randomised, multi-centre study
Talk followed by interactive Q&A. Panel includes, ProPSMA investigators:
Prof Declan Murphy, Urology, Peter MacCallum Cancer Centre, Melbourne, Australia
Prof Scott WIlliams, Radiation Oncology, Peter MacCallum Cancer Centre, Melbourne, Australia
And special guests:
Dr Jeremie Calais, UCLA, USA
Prof Kirsten Greene, Urology, UVAHealth
Professor Caroline Moore, University College London, UK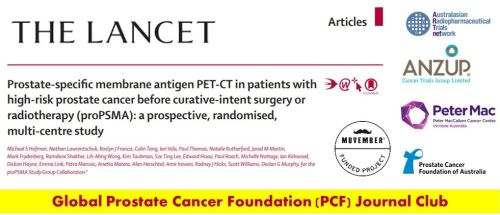 Access the paper from:
https://www.thelancet.com/journals/lancet/article/PIIS0140-6736(20)30314-7/fulltext
or
https://bit.ly/propsma-lancet