The Coffey – Holden Prostate Cancer Academy (CHPCA) Meeting is an annual, invitation-only meeting sponsored by the Prostate Cancer Foundation (PCF) and is uniquely designed to be a topic-focused think-tank composed of approximately 75 investigators divided equally by senior investigators and young investigators. The meeting is organized as a series of short presentations followed by lengthy discussion times.
This Meeting is a follow-up to the Prouts Neck Meeting on Prostate Cancer, which was originally held by the Organ Systems Branch of the National Cancer Institute from 1985-2007 and resulted in many significant advances in the prostate cancer field. Sorely missed by the research community, PCF reactivated this meeting in 2013. In 2014, this event was renamed in honor of Dr. Donald Coffey and Dr. Stuart Holden, two remarkable mentors and researchers who have made an immeasurable impact on the understanding and treatment of prostate cancer.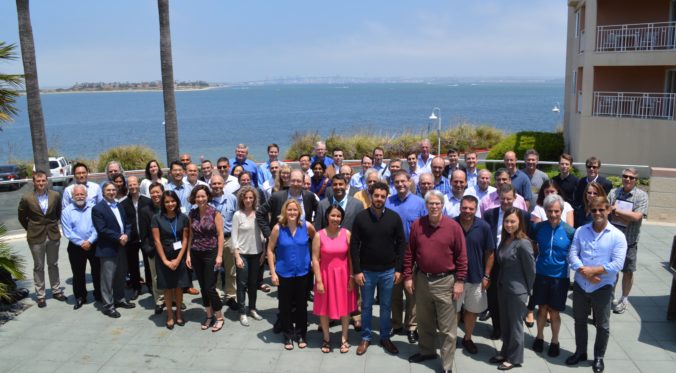 2016 CHPCA Meeting attendees
UPCOMING CHPCA MEETING:
2017 CHPCA MEETING: BEYOND THE ANDROGEN RECEPTOR II: NEW APPROACHES TO UNDERSTANDING AND TREATING METASTATIC PROSTATE CANCER
La Costa Resort in Carlsbad, CA
June 14 – 17, 2017
HISTORY OF CHPCA MEETINGS: AGENDAS AND SCIENTIFIC MEETING REPORTS
2016 CHPCA MEETING: BEYOND SEED AND SOIL: UNDERSTANDING AND TARGETING METASTATIC PROSTATE CANCER
Loews Coronado Bay Hotel, Coronado, CA
June 23 – 26, 2016
The 2016 meeting focused on generating strategies to identify and curatively treat early high-risk prostate cancer and metastatic prostate cancer. Topics of discussion included developing new biomarkers, imaging modalities, and therapies, the tumor microenvironment, exceptional non-responders, the role of DNA damage, and the microbiome.
2015 CHPCA MEETING: MULTIDISCIPLINARY INTERVENTION OF EARLY, LETHAL METASTATIC PROSTATE CANCER
Estancia Hotel, La Jolla, CA
June 25-28, 2015
Agenda | Meeting Report
2014 CHPCA MEETING: BEYOND IMMUNE CHECKPOINT BLOCKADE: NEW APPROACHES TO TARGETING HOST-TUMOR INTERACTIONS IN PROSTATE CANCER
Estancia Hotel, La Jolla, CA
June 26-29, 2014
Agenda | Meeting Report
2013 PROUTS NECK 2.0 MEETING ON PROSTATE CANCER: BEYOND THE ANDROGEN RECEPTOR: NEW APPROACHES TO TREATING METASTATIC PROSTATE CANCER
Hyatt Regency, Lake Tahoe, Nevada
June 20-23, 2013
Agenda | Meeting Report