Fund a better mask
---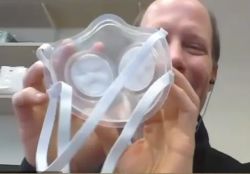 PCF funded Young Investigator Dr. James Byrne, who has both an oncology and engineering background, is part of team of scientists at MIT who have rapidly redeployed their skills to build a better mask for COVID-19, fast. Dr. Byrne and team have developed a way to cheaply mass produce masks that are not only as good as N95 masks, but BETTER – they can be re-sterilized over and over again by basic methods. The manufacturing price per mask could be as little as $1 each. The masks are molded with the same material used in anesthesia masks.
Learn More and Donate
.
Many vs Cancer
---
LOGIN
JOIN
FIND FUNDRAISER
---
More than 14 million men worldwide are living with prostate cancer, and every year more than 300,000 lose their fight. These are our fathers, uncles, grandfathers, brothers and friends. With an estimated one in eight men diagnosed in their lifetime, we all know someone who has been impacted by this disease. Ongoing advances in precision medicine mean we are closer than ever to a cure, but we need the power of The Many to defeat prostate cancer once and for all.
---
Join Many vs Cancer to fundraise for prostate cancer research
Many vs Cancer is the Prostate Cancer Foundation's new fundraising movement.  This grassroots community of patients, caregivers, survivors, family and friends is rallying around a united goal: defeating prostate cancer once and for all.
---
Sign up for free and receive:
a personalized Web page
a participant center to keep track of your progress and thank your donors
easy to use fundraising tools to help you get the word out
the ability to set up pages in memory or in honor of someone special and much more!
---
Many vs Cancer community members are already fundraising online and in-person.
Choose one of the following options or click "fundraise your way" to get started:
Our team is here to support you and find just what works for you. Let your passion, talents and interests lead you to your own fundraising endeavor on Many vs Cancer.
Looking to get started? We are here to help every step of the way.