For years, scientists have questioned why the same cancer treatment might work for one patient, but not another. Thanks in part to research funded by the Prostate Cancer Foundation, they now have some answers.
Scientists are beginning to understand that each patient doesn't just have prostate cancer, they have their own particular form of prostate cancer. New technologies that allow us to identify the gene mutations in a patient's tumor have resulted in the emerging field of precision medicine, which takes into account individual variability in genes, immune function, environment, and lifestyle for each person.
Mutations can exist both in the tumor itself, and in the genetic material passed down from your parents. This means that cancer, even prostate cancer, is a family problem. We now know: some of the genes that are responsible for prostate cancer are also responsible for cancers in daughters, and vice versa; for example, if your mom has the BRCA gene for breast cancer, this increases your risk for prostate cancer.
PCF is still doing what we've been doing for nearly 30 years now: saving men's lives. But a new era in cancer treatment is coming, and PCF-funded research for prostate cancer already has overlap in 70 other cancers. PCF believes that this new form of thinking – precision oncology that looks at cancer risk across your whole family – is the key to finally unlocking the mystery of curing all cancer.
5 Proactive Ways to Fight Cancer
Host a Family Meeting
Because we now know so much about cancer's hereditary properties, it's important that you share disease history with everyone in your family who shares the same hereditary genes. It is critical that you not only collect your cancer history up the family tree from older relatives (who might hesitate to discuss it), but also that you share that information down the family tree with your children. Also share this information with your doctor.
Don't Over-screen (*or Under-screen)
Prostate cancer is a slow-growing disease in many men, and research indicates that too much screening could lead to overtreatment. Your best approach is to practice precision screening, by using the following simple guidelines and participating in shared decision-making with your doctor.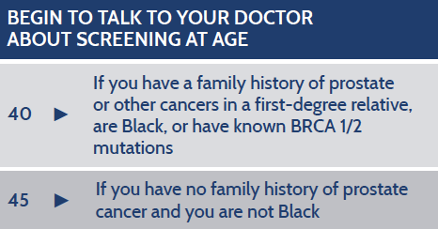 If Recommended By Your Doctor, Get Genetic Testing
Your genes are the "instructions for life" that you inherited from your mother or father, share with your siblings, and may pass on to your children. There are at least 60 genes associated with inherited cancer risk, and about 20 that are associated with prostate cancer risk. Knowing about your genes helps you understand the risk that you and your may children face, so that you can create a family health plan for prevention and earlier detection.
Get Your Tumor Tested
Getting biomarker testing of your tumor could extend or save your life. Analyzing the genetic material that's specific to the tumor cells in your biopsy gives your doctors a complete understanding of what's making your tumor grow and divide. It could lead to more precise treatment for you, with the right medicine, for the right cancer.
Start That Anti-Inflammatory Diet Early
It turns out, bodily inflammation in your 20s and 30s can cause the gene mutations that may increase your risk of prostate cancer later in life. In general, guidelines for an anti-inflammatory diet include eating a basic whole-foods, Mediterranean-type diet—high in vegetables, grains, beans, and fatty fish, free from processed food, and low in saturated fat, dairy, and red meat.