It's been five years since the Dickson family lost their beloved daughter and sister, Kelsey, to a rare form of cancer known as Merkel Cell Carcinoma. Kelsey was just 10 years old at the time, a wonderful young girl who dreamt of a future career as an architect while devoting her present moments to countless hours spent drawing and painting.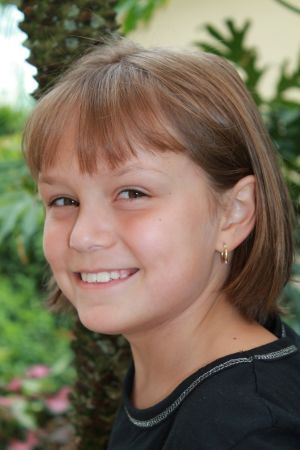 As the first young child in the U.S. to be diagnosed with Merkel Cell Carcinoma, Kelsey's battle with this rare form of cancer shocked the medical world. Typically, Merkel Cell Carcinoma, the most lethal form of skin cancer, is found in adults in their 70s or 80s. A childhood diagnosis like Kelsey's was not only unprecedented, it was unthinkable. She was given a 20% chance of survival.
For the next 9 months, Kelsey never gave up or gave in, fighting valiantly with her loving parents, Andy and Raquel, and older brother, Kyle, by her side every step along the way through chemotherapy and clinical trials. Tragically, Kelsey passed away on September 17, 2014.
Inspired by Kelsey's relentless optimism, the Dickson family, along with Andy's employer Odyssey Group, and Odyssey's parent company, Fairfax Financial Holdings Limited, have dedicated themselves to continuing her fight, ensuring that her spirit will live on forever. Their journey to make as great of a contribution as possible to cancer research led them to join with the Prostate Cancer Foundation (PCF), a leader in the field of advancing oncology science.
The Dickson family was well aware that cancers like MCC are not a cancer of the prostate. However, they learned that as the field of oncology has evolved, the traditional viewpoint of characterizing a cancer by its geographic location is becoming outdated. Simply put, it's not about where the cancer resides in the body, but instead the genetic uniqueness of the cancer cells themselves. The bottom line is that there is an overlap between MCC and prostate cancer, and the Prostate Cancer Foundation has a peerless track record in turning philanthropy into actual breakthrough discoveries and life-saving treatments.
The passion and commitment of the Dicksons has radiated Kelsey's inspiration to everyone who knew them. In 2015, thanks to Odyssey and Fairfax, not one, but two PCF Courage research projects were launched in Kelsey's memory.
Two of the world's most brilliant cancer researchers were identified to carry on this work, developing first-in-field studies that leverage a comparison of parallels between Merkel Cell Carcinoma (MCC) and neuroendocrine/small cell prostate carcinoma with the goal of finding new therapeutic strategies for them both. This work reached its fruition in 2017, and the outcome was nothing short of outstanding, contributing to the first-ever FDA-approved drug for the treatment of MCC, Avelumab. It also included four subsequent clinical therapy trials and an entirely new treatment protocol where the body's own immune cells will be reprogrammed through the infusion of this new checkpoint inhibitor directly into the cancer tumor.
This breakthrough work will help save the lives of patients suffering from MCC every year, while also impacting prostate and other cancers. But it won't save everyone impacted like Kelsey was, and that means the job isn't finished.
Today, this research continues in honor of Kelsey and the Dickson's constant fight for a cancer-free world. The newly established Kelsey Dickson Team Science Courage Award is currently funding the next innovative steps of the team assembled with PCF at the world-renowned Fred Hutchison Cancer Center in Seattle, Washington. These new awards, generously funded by the Odyssey Group Foundation, are dedicated to extending their impact to every single patient affected by MCC and beyond, unraveling the mechanisms some cancer cells use to proliferate throughout the body unchecked due to their ability to "hide" from the immune system.
This past June, the Dickson family joined PCF, Drs. Nghiem and Nelson, and their research teams at Safeco Field in Seattle to honor Kelsey's legacy and to celebrate the amazing strides being made in rare cancer research. Kelsey's older brother Kyle threw out a perfect first pitch to kick-start the festivities. The Dickson family and the researchers were honored on the field by Prostate Cancer Foundation Founder and Chairman, Mike Milken, along with the Seattle Mariners owner, John Stanton, in the hope of raising public awareness for cancer research and the vital need for funding tomorrow's cures.
Thanks to the devotion of the Dickson family and the generosity of the Odyssey Group and Fairfax, Kelsey's spirit continues to live on and touch the lives of families around the world. Her legacy will always be one of hope, her light will continue to shine, and the PCF is honored to be at the forefront of these remarkable strides being made in cancer research.