Rahul Aggarwal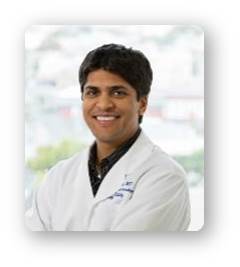 About Rahul Aggarwal
The development of androgen axis inhibitors Zytiga® and Xtandi® has improved treatment of metastatic treatment-resistant prostate cancer (mCRPC). Often, these patients become treatment-resistant. Some of these men develop prostate cancer with features of neuroendocrine disease, a highly aggressive form of prostate cancer.
MYC-driven cyclin-dependent kinases (CDK) 4/6 is a potential therapeutic target for CRPC. Dr. Rahul Aggarwal will clinically evaluate the effects of a 6-month trial treating patients whose tumors express features of neuroendocrine disease with a CDK 4/6 inhibitor in combination with docetaxel chemotherapy.
Once a novel biomarker of MYC transcriptional activity is identified, Dr. Aggarwal will investigate use of gallium citrate PET imaging to gauge MYC target inhibition and clinical response during treatment
Dr. Aggarwal's research builds on preliminary pre-clinical data that supports the use of gallium citrate PET as a biomarker for MYC target inhibition.
What this means for patients: There is a critical and growing unmet medical need to develop more effective treatment strategies to improve outcomes in men suffering from neuroendocrine evolved prostate cancer. If successful, this research will provide strong proof of concept for integration of these novel targeted therapies in clinical care.
Rahul Aggarwal, MD
University of California, San Francisco
Mentor
Eric Small, MD
Proposal Title
Targeting MYC-Driven Cell Cycle Progression in Neuroendocrine Prostate Cancer with Gallium Citrate PET as a Novel Biomarker of MYC Transcriptional Activity
Award
2015 John Paulson–PCF Young Investigator