Todd Morgan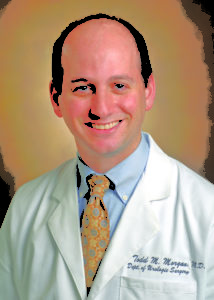 About Todd Morgan
The androgen receptor (AR) is the engine that drives prostate cancer progression and survival and is the primary therapeutic target for this disease. Resistance to AR medicines is inevitable and new treatments for drug resistant patients are urgently needed.
Dr. Todd Morgan hypothesizes that the HGF/c-MET cell growth pathway is a potential mediator of resistance to AR-targeting therapies. In this project, HGF/c-MET activity will be assessed in prostate cancer cell lines and in patients receiving enzalutamide and other AR-targeting therapies to determine mechanisms of drug-resistance.
c-MET inhibitors are being tested in phase 2 and 3 clinical trials in patients with AR-targeting drug resistant tumors. c-MET activity will be correlated to treatment response in patients with an experimental c-MET drug (Cabozantinib) and mechanisms of resistance will be studied in these patients.
If successful, this study will identify a mechanism of AR-targeting drug resistance and treatment implications for c-MET inhibitors.
What this means for patients: Resistance to standard and next generation AR-targeting therapies leads to development of untreatable lethal disease. This study will assess the biology of treatment resistance mechanisms and may lead to new combinatorial therapies and therapeutic strategies to treat or prevent this disease state.
Award
2014 Stewart Rahr-PCF Young Investigator
Todd Morgan, MD
University of Michigan
Mentors
Arul Chinnaiyan, MD, PhD, Russell Taichman, DMD, DMSc
Proposal Title
Defining the Role of the HGF/c-MET Axis as a Mediator of Therapeutic Resistance in Advanced Prostate Cancer