Wassim Abida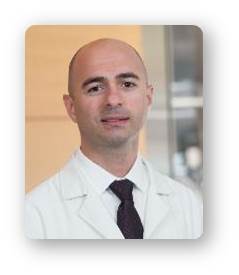 About Wassim Abida
Genomic profiling of primary and metastatic treatment-resistant prostate cancer (CRPC) allows precise molecular classification of the disease. Identifying mechanisms of resistance to current therapies will lead to novel precision medicine treatment options.
Dr. Abida will use genetic data obtained from the PCF International Prostate Cancer Dream Team to correlate molecular signatures of CRPC cells with patient outcomes to identify mechanisms driving treatment-resistance and disease progression in men with lethal forms of the disease.
Targeted genomic profiling of tumor DNA directly from the blood CTCs of these patients may lead to development of clinical tools to detect mutations in patients with CRPC without the pain and expense of an invasive tumor biopsy.
Dr. Abida's research lays a crucial foundation for development of precise diagnostic and prognostic tools—advancing personalized treatment options for men with CRPC.
What this means for patients: Prostate cancer patients will invariably become resistant to standard treatments. Targeting specific genomic alterations represents an innovative strategy for earlier diagnosis of aggressive prostate cancer and precise and personalized treatment for patients with CRPC.
Wassim Abida, MD, PhD
Memorial Sloan Kettering Cancer Center
Mentors
Howard Scher, MD; Charles Sawyers, MD
Proposal Title
Investigating Treatment Selection and Resistance Using Prostate Cancer Genomics
Award
2015 David H. Koch–PCF Young Investigator