Previous Webinars
4/26/2022 – Disparities in Prostate Cancer, In Honor of National Minority Health Month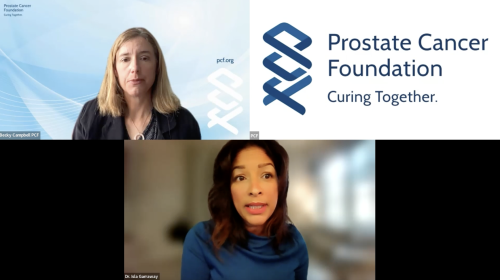 Joined by special guests, actor Harry Lennix and ESPN's Brian Custer, PCF experts discuss disparities in prostate cancer.
Key points:
• Talk to your doctor about prostate cancer screening: Black men should start at age 40.
• Non-white patients are less likely to get genetic testing, which may help identify a precision treatment or shed light on family risk of cancer. Ask your doctor if this type of testing is right for you.
• Involving patients and community members as research partners, rather than as subjects, may help increase understanding of disparities and how to address them.
• Call your local cancer center's office of community outreach to get connected with area resources.
Watch the Replay
---
10/28/2021 – PCF Doctor-Patient Summit
No matter where you are in your prostate cancer journey, it's always the right time to take an active interest in the latest research and treatment. The PCF Doctor-Patient Summit was held at the 28
th
 Annual Scientific Retreat.
Watch the Replay
---
9/21/2021 – "The Science of Nutrition and Prostate Cancer"
This September, during Prostate Cancer Awareness Month, PCF is focusing on the importance of healthy lifestyles and good nutrition in cancer survivorship and overall wellness.
There's a lot of information out there about nutrition and wellness, and it can be hard to distinguish fact from hype. We've brought together a panel of experts to present the latest research and answer your questions in a one-hour live webinar.
Hear about the science, and what it means for you:
• The Big Picture: Dietary Profiles and Prostate Cancer
• Calorie Restriction and Prostate Cancer: Evidence From a Clinical Trial
• All About Broccoli
Watch the Replay
---
9/18/2021 – PCF & West Angeles Church – "How Much Do You Know About Prostate Cancer?"


During Prostate Cancer Awareness Month, the Prostate Cancer Foundation and the West Angeles Church jointly present: "How Much do You Know about Prostate Cancer?" This virtual meeting will center on raising awareness about prostate cancer among high risk populations, discuss early detection, the latest research and treatment options, survival, risk factors, and lifestyle choices.
Watch the Replay
---
5/27/2021 – "Things Every Man With Prostate Cancer Should Know" Webinar
PCF is proud to present a series of educational webinars on essential topics for men with prostate cancer.
Watch the recording of our first session held on May 27, addressing: Genetic Testing in Prostate Cancer, Side Effects of ADT, Clinical Trials, and Sexual Health.
Watch the Replay
---
9/19/2020 – PCF & West Angeles Church – "How Much Do You Know About Prostate Cancer?"


Watch the Replay
---
4/30/2020 – PCF-Us TOO Webinar on Disparities in Prostate Cancer
Racial disparities exist in rates of prostate cancer diagnosis and death: in the US, African American men are about 75% more likely to be diagnosed with and more than twice as likely to die from prostate cancer than Caucasian men. Among other men of color, disparities exist but are less well-described. During National Minority Health Month, please join us as PCF and Us TOO host a webinar to discuss recent research. We'll also hear from an African American prostate cancer survivor and a caregiver of a Veteran who is battling the disease.
Watch the Replay