No matter the circumstances, every family knows: a cancer diagnosis is rough.
2020 was a year like no other, especially for families affected by cancer. But one thing remained steadfast: the people around us – the ones who drive us to appointments, shop for the few foods we're willing to eat, administer our treatments, or just put up with us when we feel mad at the world – they give us the hope and strength that we need to get through.
This Valentine's season let's give back some love.
Tell us your TRUE caregiver story
Whether you are a caregiver, or you are honoring a special person who has supported you, we want to celebrate your cancer caregiver story. Top stories will be featured on pcf.org, and two caregivers will receive a special care package, selected by PCF Ambassador and award-winning actress, Kristen Bell!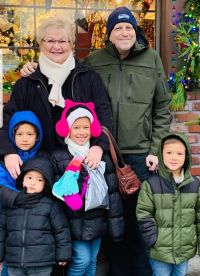 "I am honored to be part of the Prostate Cancer Foundation's TRUE Love contest for the fourth consecutive year. Each year, these stories inspire us all by spotlighting the beautiful bond shared between prostate cancer patients and their caregivers. It fills my heart to show caregivers how much they are appreciated and loved for their support and dedication."
– Kristen Bell
True Stories of Care
About the TRUE campaign
TRUE celebrates and honors caregivers of prostate cancer patients — spouses, partners, nurses, doctors, siblings, children, friends.  In the U.S. every 2 minutes a man is diagnosed with prostate cancer and there are currently more than 3 million men living with the disease. The most fortunate among us often have someone who has made a special commitment or gone the extra mile towards supporting them through the battle.  That support can make all the difference in the world to someone with a cancer diagnosis.  From finding the right treatment, to recovery or palliative care, compassionate care is a key factor in all aspects of care.
Award-winning actress Kristen Bell is helping to get the word out about the TRUE campaign and she's also curating a special gift package for the winner of the most inspirational caregiver story submitted to the campaign. Supporting TRUE is a personal cause for Bell. Her mother is a nurse and her father-in-law has recently passed away from prostate cancer, so she understands the importance and invaluable contribution that caregivers provide, making them an essential part of the cancer care support system.
Contest Rules and Regulations | Submit my story