Jade B.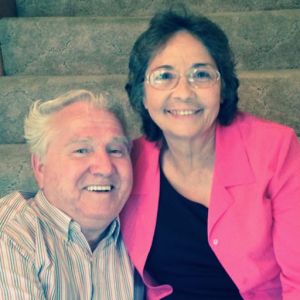 About Jade B.
I would like to submit a story about my mother and dad. I hope it's not too long.
My mother is my father's caregiver. He was diagnosed with prostate cancer when I was in my late teens. He has had resurgences of it since then. He went to the doctor yesterday and his PSA was at 5, which means they will have to start monitoring very closely again.
My dad will be 78 on 02/11/2019. He and my mother just celebrated 56 years of marriage. They have 4 children. When my mom was 15 she had her first child. Back then there was no such thing as pro choice decisions, not that I think she would have been. My dad lived next door to my mom and was friends with her brothers. At 18 and he at 21, they got married and my dad adopted my mom's son. They had a child together a few years later and planned on more but my mother was diagnosed with cervical cancer. Well how does that lead to the other two you ask? Their child together had a daughter and, in their late 40s, my parents adopted her. Sensing she needed kids her own age around they then dedicated their lives to being foster parents, helping rear close to 70 children during that time. I was 11 when I met my parents. I was 14 when they adopted me. My parents were in their 50s by then, but they opened in their hearts and allowed me to become one of their own. Shortly after that my dad was diagnosed with Prostate cancer the first time. He's suffered heart attacks and chemo and other things and my mom has always stood by his side, just like she has children of her own blood and children she loves who grew in her heart and not in her belly.
The day after Thanksgiving 2017 my dad had a stroke. Followed by a massive stroke two weeks later and then followed by at least 9 they know of in the year since. He can no longer walk. The left half of his body doesn't work. My parents have used all their savings and can not afford in home care. So my dad, at 78, is bathed and changed and fed personally by my 73 year old mom. And she could give up and put him in a long term home against my father's wishes, but she sticks by his side and she keeps him happy and comfortable often at the detriment of her own happiness and comfort.
My mom is the ultimate caregiver. She loves until it seems she doesn't have the strength to love any more, and then she somehow finds it. This is supposed to be their golden years and my mother has what essentially seems to be a child trapped in a man's body to take care of again. And often times he gets angry or he forgets who we are. And, even though I see the hurt in her eyes, she never complains or raises her voice or feels sorry for herself, she just keeps loving my dad.
I know a lot of people will enter this, but please consider my mother. She could use a little light in her life right now. I am attaching a photo from their 51st wedding anniversary to this story so you can see what love and loyalty and strength look like from my perspective.
Thank you.
Share on: Facebook | Twitter
Read More | Submit your Story