***Are you looking for Muhit's 2018 Grand 2 Grand Fundraising page? Click here. ***
There is never a convenient time for a prostate cancer diagnosis, and Muhit Rahman of Santa Monica, CA, knows this first-hand. In 2013, just three weeks before running his first marathon, Muhit, who is originally from Bangladesh, learned that he had prostate cancer. The news came as a shock. After all, Muhit was only 57 years old, years away from what is generally considered high-risk. Not only that, but with nearly 10 months of marathon training under his belt, he felt he was in the best shape of his life and healthier than ever.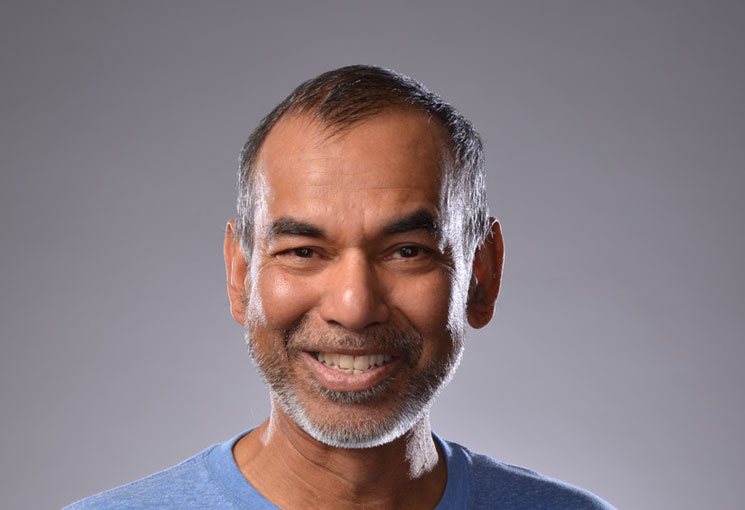 "It's always life-altering to hear that you have cancer," said Muhit, who first became involved with the Prostate Cancer Foundation in 2009 through his work in financial services, years before his diagnosis. "Until you get that news, you don't have cancer. And then all of a sudden, you do."
❝ You can almost say that prostate cancer liberated me and freed me to not put things off...to live life as it is meant to be. ❞
After consulting with his doctors, he determined that his best option, given his age, was a radical prostatectomy. After six weeks of recovery, his doctor gave him the "all clear" to resume his normal activities. But what happened next might surprise you: he started training for another marathon. Just 11 weeks after his surgery, Muhit crossed the finish line at the 2014 LA Marathon, completing the 26.2-mile course in an impressive five hours and 25 minutes. While it wasn't his best time, he emphasizes with a laugh, it is an accomplishment he recalls with tremendous pride.
The 2019 Patient Guide is here
Enter your email address to get the free pdf
Muhit credits his speedy recovery to a newfound commitment to running and a healthy lifestyle. "For me, my cancer diagnosis was the wake-up call, and a reason to get healthy," he says. "Because of my age, I have a 30% chance of recurrence, and I'm going to do everything I can to beat those odds."
After the LA Marathon, Muhit prepared for his next challenge: join the 7-continents club. As you might suspect, to join this exclusive roster one must complete a full marathon on each of the seven continents. And yes, that includes Antarctica! Not one to shy away from a challenge, Muhit also vowed to complete all seven races in just seven months' time. And he achieved that goal. First on the list was Antarctica ("hilly, windy and cold," he says) in March 2015. Next were Greece and Peru, followed by Kilimanjaro, which he first climbed and then ran with his daughter, in June. Colorado followed in July, and Australia was completed in August. He checked Asia off his list with his completion of the Tazawako Marathon in Japan on September 20th.
Muhit proves that being a prostate cancer survivor is more than simply living a life free of cancer. Quite the opposite—a prostate cancer diagnosis may actually be the beginning of your best, healthiest self. "I got cancer," says Muhit, "but so what? I'm not going to lie down for it. To hear that you have cancer is terrible, but it is far from the end of the world. It is up to each of us to live our lives—to make the most of each and every day. And I'm doing it!"
Learn More
My Prostate Cancer Story: Craig...

Craig Gilmore was legendary personality at his company. A software developer with a quiet and unassuming nature, he was a beloved center of social life,...

My Prostate Cancer Story: Brian...

"Do you want to live or do you want to die?" That's a question Brian Custer asks men, especially African-American men, when they aren't sure...