The 27th Annual PCF Scientific Retreat will be a virtual event in October 2020. As an organization, our first priority in making this decision is the safety and well-being of our attendees. This decision to hold a virtual conference is based on highly valued public health information informing us that October 2020 is still too soon to convene a face-to-face conference with confidence in safety for all.
We intend that this virtual Scientific Retreat will remain an important time point for our scientific community for sharing diverse basic, translational and clinical science that leads our field forward. We intend to create an experience that is both intellectually significant and as interactive as possible.
There is no limitation on number of attendees. If you or your colleague(s) would like to register and attend, they can send an email to retreat@pcf.org to receive an invitation to register. There are no fees associated with registration.
The timeline for the scientific sessions and retreat is as follows:
PCF Women in Science Forum
October 20, 2020 | 7:00 AM PDT – 12:00 PM PDT
PCF Young Investigator Day
October 21, 2020 | 7:00 AM PDT – 12:00 PM PDT
Attendees for PCF Young Investigator Day will be limited to 2014 – 2020 PCF Young Investigator Awardees and special guests.
The 27th Annual Scientific Retreat
October 22 – 23, 2020 | 7:00 AM PDT – 1:00 PM PDT
Meeting times are approximate and subject to change
A poster session will be available throughout this time frame. Approximately one week following this event, we will convene a webinar-based poster discussion session to highlight the most important findings presented in this format. A request for poster abstracts and associated submission deadline will accompany registration details.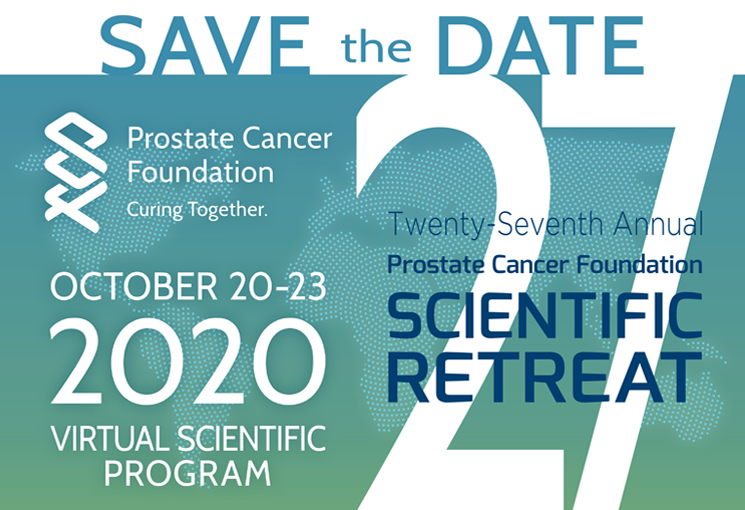 Formal invitations will be emailed from retreat@pcf.org.
For general inquiries, please email retreat@pcf.org