Validation of Radiomics-Based Imaging Biomarkers for Guiding Therapy in Patients with mCRPC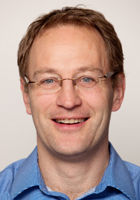 About Validation of Radiomics-Based Imaging Biomarkers for Guiding Therapy in Patients with mCRPC
Once metastatic cancer develops, tumors can be located at many sites throughout the body and each tumor may exhibit a unique response to therapy. The development of imaging methods to assess metastatic tumor burden and treatment responses is critical for guiding clinical decision making.
Dr. Jeraj and team will develop a quantitative total body imaging (QTBI) method that assesses individual metastatic tumor responses to treatment with enzalutamide, a therapy targeting the androgen receptor (AR).
Patients being treated with enzalutamide will be followed using QTBI to create imaging signatures that predict response or resistance to enzalutamide.
Imaging signatures will be compared with molecular biomarkers of resistance and response by obtaining biopsies of the most resistant and most responsive tumors from each patient and performing analyses to identify the associated genomic alterations.
Finally, whether this QTBI method can predict the time to progression on enzalutamide will be determined by comparing the fraction of resistant lesions identified by imaging with standard PSA, radiographic and clinical measures of disease progression.
What this means for patients: The future of molecular imaging methods extends beyond simply monitoring disease status in patients. If successful, this project will generate a biologically-validated imaging method that assesses resistance and response of individual metastatic tumors to treatment and is able to predict time to disease progression on the AR-targeting therapy enzalutamide. This methodology will allow clinicians to optimize patient treatment plans and will speed the development of new therapies.
Principal Investigator:
Robert Jeraj, PhD (University of Wisconsin Carbone Cancer Center)
Co-investigators:
Glenn Liu, MD (UW Carbone Cancer Center); Scott Tomlins, MD, PhD (University of Michigan Medical School); Scott Perlman, MD (University of Wisconsin-Madison); Urban Simoncic, PhD (University of Wisconsin-Madison)