Early Detection of Neuroendocrine Prostate Cancer Transformation Using Circulating Genomic Signatures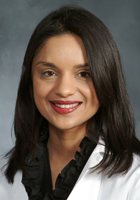 About Early Detection of Neuroendocrine Prostate Cancer Transformation Using Circulating Genomic Signatures
A subset of treatment-resistant metastatic CRPC patients will express markers of neuronal development which are thought to correlate with lethal prostate cancer. These tumors have evolved to no longer rely on the androgen receptor (AR) to grow and survive.
Diagnosis of this subset of tumors is difficult and they can coexist with classical adenocarcinoma and other cancer cell phenotypes.
Dr. Beltran and team will generate a noninvasive genomics method for the assessment and early detection of neuronal markers of prostate cancer. Tumor cell DNA is continually shed into the circulation and can be obtained by blood draws. Circulating tumor DNA obtained from blood of patients diagnosed with this subset of prostate cancer expressing neuronal markers will be comprehensively analyzed to determine DNA alterations in these cells compared with adenocarcinoma.
The genetic alterations that arise during the development of the lethal tumor cell clone during resistance to the AR-targeting therapies, abiraterone acetate or enzalutamide will be identified. Genomic alterations will be correlated with clinical data to identify the best prognostic indicators of AR-therapy resistance and clinical outcome.
These studies will be performed in a specialized clinical laboratory setting that will generate a highly standardized blood-based method for noninvasive early diagnosis of lethal prostate cancer.
What this means for patients: Understanding and targeting mechanisms of tumor cell drug-resistance is critical for extending the lives of prostate cancer patients. If successful, this project will identify genomic alterations that allow tumor cells to develop neuronal markers and gain resistance to AR-targeting therapies. This may lead to new methods to diagnose and treat patients with this lethal disease phenotype.
Principal Investigator:
Himisha Beltran, MD (Weill Cornell Medical College)
Co-investigators:
Gerhardt Attard, MD, PhD (Institute for Cancer Research); Francesca Demichelis, PhD (University of Trento); Alessandro Romanel, PhD (University of Trento); Kenneth Hennrick, MD (Weill Cornell-NewYork Presbyterian)