Exploiting an Actionable Germline Biomarker of Castration-Resistant Prostate Cancer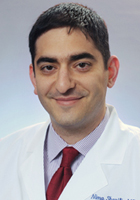 About Exploiting an Actionable Germline Biomarker of Castration-Resistant Prostate Cancer
The androgen receptor (AR) pathway is the fuel for prostate cancer growth and survival and is a primary therapeutic target. Resistance to AR-targeting therapies is common and patients eventually progress to a lethal, untreatable disease state. Multiple mechanisms can underlie AR-therapy resistance, including an overproduction of androgens which allows AR to become more easily activated.
Dr. Sharifi and team are studying whether mutations in 3βHSD1, an enzyme involved the metabolic pathway converting androgen precursors into androgens, predispose patients to AR-targeting therapy resistance.
An inherited mutation in 3βHSD1 leads to higher activity of 3βHSD1, greater output of androgens in CRPC patients, and associates with poor clinical outcome. Whether 3βHSD1 mutations also enhance androgen metabolism in yet untreated patients will be determined by measuring androgen biosynthesis pathway metabolites in patient tumor and serum specimens and correlating levels with 3βHSD1 genotype.
These findings will be translated into an FDA-approved prognostic 3βHSD1 genotyping test.
The androgen synthesis inhibitor, abiraterone acetate (AA), works by blocking the androgen biosynthesis pathway upstream of 3βHSD1 and therefore AA treatment may negate the effects of 3βHSD1 mutations. Two clinical trials will be initiated to determine if patients with 3βHSD1 mutations are more sensitive to 1) abiraterone treatment or 2) to combination therapy of androgen-deprivation therapy + abiraterone.
What this means for patients: Patients who develop resistance to AR-targeting therapies will likely progress to a lethal disease state. If successful, this project will develop a FDA-approved prognostic test that identifies a subset of patients with inherited mutations that predispose to AR-targeted therapy resistance and determine the efficacy of abiraterone as an alternative treatment approach for these high-risk patients.
Principal Investigator:
Nima Sharifi, MD (Cleveland Clinic)
Co-investigators:
Jorge Garcia, MD (Cleveland Clinic); Jason Hearn, MD (Cleveland Clinic); Eric A Klein, MD (Cleveland Clinic); Manish Kohli, MD (Mayo Clinic); Cristina Magi Galluzzi, MD, PhD (Cleveland Clinic); Donald Tindall, PhD (Mayo Clinic)