Optimizing the Use of Taxane Chemotherapy in Prostate Cancer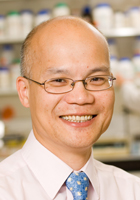 About Optimizing the Use of Taxane Chemotherapy in Prostate Cancer
Developing methods to match patients with treatments that will most benefit them is a critical goal in prostate cancer patient care.
Dr. Leung and team are studying prostate cancer patients treated with docetaxel chemotherapy in order to identify biomarkers that predict which patients will most benefit from chemotherapy and determine mechanisms of chemotherapy resistance.
Gene expression and genomic mutations will be examined in tumor tissues from patients who were treated with docetaxel in the STAMPEDE clinical trial. Genes associated with good vs. poor outcome will be identified to develop a prognostic biomarker panel that predicts chemotherapy sensitivity and de novo chemotherapy resistance.
In addition, the contribution of metabolic alterations to chemotherapy resistance will be examined by analyzing the metabolic profiles of prostate cancer cells and the effect of knocking down metabolic genes on the sensitivity of prostate cancer cells and tumors to docetaxel in preclinical models. Genes that enhance the death of prostate cancer cells when combined with docetaxel represent promising targets for the development of therapies that will synergize with chemotherapy.
What this means for patients: Determining whether patients will benefit from chemotherapy is critical for devising optimal treatment strategies. If successful, this project will identify biomarkers that predict chemotherapy sensitivity and identify novel therapeutic targets for preventing chemo-resistance and achieving therapeutic synergy when combined with chemotherapy.
Principal Investigator:
Hing Leung, MD, PhD (Cancer Research UK Beatson Institute)
Co-investigators:
Eyal Gottlieb, PhD (Cancer Research UK Beatson Institute), Owen Sansom, PhD (Cancer Research UK Beatson Institute), Rob Jones, PhD (University of Glasgow and Beatson West of Scotland Cancer Centre), Emma Shanks, PhD (Cancer Research UK Beatson Institute), Gabriela Kalna, PhD (Cancer Research UK Beatson Institute), Prabhakar Rajan, MD, PhD (Cancer Research UK Beatson Institute), Rachana Patel, PhD (Cancer Research UK Beatson Institute)