Use of Selective GR Antagonists in Castration-resistant Prostate Cancer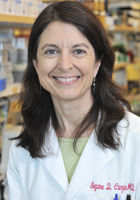 About Use of Selective GR Antagonists in Castration-resistant Prostate Cancer
The androgen receptor (AR) is the primary driver of prostate cancer progression and survival and is a successful therapeutic target of many new life-prolonging treatments. However, tumors inevitably develop resistance to AR-targeting therapies and progress to lethal castrate-resistant prostate cancer (CRPC).
Increased activity of the glucocorticoid receptor (GR), a protein relative of AR, acts as a mechanism of AR-targeted drug-resistance in some patients by turning on expression of many of the same tumorigenic genes which rescue tumor cells from the loss of AR function.
Dr. Conzen and team will determine the efficacy and mechanisms by which several new GR-targeting agents act in combination with AR-targeting therapies to kill prostate cancer cells.
Dr. Conzen has initiated clinical trials in CRPC patients to evaluate therapeutic synergy between AR and GR-targeting drugs (enzalutamide and mifepristone, respectively). Using circulating tumor cells from these patients, her team will evaluate whether inhibition of GR activity by mifepristone therapy will predict a therapeutic response in AR-targeted treatment-resistant patients.
What this means for patients: Castrate-resistant prostate cancer (CRPC) is often a lethal disease state in which tumors have developed resistance to AR-targeting therapies. If successful, this project will generate new drugs that inhibit a major mechanism of AR-drug resistance and leverage knowledge of how these drugs work to develop clinical biomarkers of therapeutic response.
Principal Investigator:
Suzanne Conzen, MD (University of Chicago)
Co-investigators:
Geoffrey Greene, PhD, Walter Stadler, MD, Russell Szmulewitz, MD, Diana West, PhD (University of Chicago)